[POST RACE REPORT] Family Day Weekend Hometown Racing
Oakwood, ON (February 21, 2018) – Karkoulas Sisters Racing (KSR) just finished a successful weekend of hometown racing at the Lindsay Exhibition Fairgrounds. The Kawartha Cup National Snowcross event marked the third event in the Canadian Snowcross Racing Association (CSRA) season schedule and was attended by many of KSR's own friends and family.
The weekend started off with a bang as all three KSR team members, Brooklyn, Dakota and Zoe gave away VIP "Meet & Greet" passes for BAILEY MOTORSPORTS. It was a great opportunity for the girls to share their passion for the sport with fans.
Zoe #502 
Zoe had her first opportunity to race under the lights in the feature program on Saturday with the stands packed with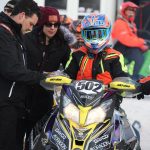 spectators. She had some ups and downs on her Arctic Cat ZR 200 with it not quite pulling the deep soft snow conditions. However, she was still able to pull off a podium finish Saturday earning third place. When asked her thoughts about the weekend Zoe said, "I didn't like that my sled got stuck on the line." Some tweaking over the next couple of weeks is in order and will be ready to go for the next race in Timmins, ON.
Despite some difficulties, Zoe continues to surpass Mom and Dad's expectations with her comfort and progression on the big sled. She is always excited to pull it up to the line and never gets intimidated by the speed and talent in the races.
Dakota #501
Dakota pinned it to win it on Saturday, sweeping transition girls and going 2 for 2 in her transition 11-13 qualifiers. After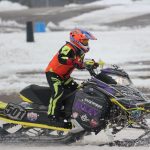 making her way around a tangled start she earned 4th in the final.
On Sunday, Dakota rode with a vengeance. After rubbing in a corner on the first lap and ultimately falling off in her first transition girls heat she was in the back of the pack. However, she threw down some amazing lap times and rode like a girl on a mission all the way up to the top of the pack, missing out on second place by the ski tip. Dakota's second heat was a bit challenging, but she worked past these challenges to earn a 5th place final. Sunday's transition 11-13 class had her racing hard and smooth to the podium with a third place overall.
Brooklyn #500
Brooklyn had a consistent weekend of racing that tested her physical fitness to the max. Powering her 2018 Ski-Doo RS around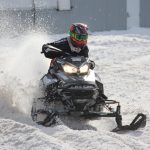 a soft track with many kickers put her skills to the test. On Saturday she was excited to have friends from school and family trackside cheering her on, but she also felt the added pressure that a hometown race can have.
Despite the added pressure, Brooklyn placed second in Junior girls! Junior 14-15 saw her struggle a bit to find her groove, but she garnished great experience riding the challenging track with some amazing riders. Sunday saw Brooklyn more determined than ever. She rode hard and fast and had some of her best results of the season. It was a toss-up for her whether her highlight for the weekend was taking the checkered in her final race of the day (Junior Girls) or if it was as the sole female in the Junior 14-15 class, earning 5th place against some very talented guys.
Some great pit parking made watching teammates from Bailey Motorsports easy and enjoyable. While the team had their own set of ups and downs, it was great to see the Bailey Motorsports riders giving their all out on the track. Saturday saw Yannick Boucher #53 on the podium with a second place finish in the Snow Bike class. Sunday he returned to the podium with a 3rd place finish. Isaac St. Onge #117, the team's Pro lite rider, had some challenging races Saturday but was not deterred and came out as strong as ever going 1:1 in his heats and 2nd in the final.
Both Pro riders Taylor McCoy #335 and Ryan Hunt #729 maneuvered their sleds around the tracks like the pro's they are. Like many riders this weekend they found themselves occasionally off the track or track side up but they continued to race hard providing to KSR racers that they can overcome challenges and keep their heads held high.
KSR would like to extend a huge thank you to their sponsors and supporters: Bailey Motorsports, Backwoods Promotions Inc., Backcountry Motorsports Media, Off Road Vixens, Lucas Oil Products Canada, Dayco, STUD BOY Traction, Troy Lee Designs, SCOTT, Laps for Muscular Dystrophy
RESULTS: To see full results for both KSR & Bailey Motorsports, visit www.snowcross.com/race-results
FOLLOW US: @KSRsnowcross (Twitter & Instagram)