Season Opener at Rouyn-Noranda a Huge Success for KSR Racers
Top Finishes and Career Bests Kick off 2018 with a Bang
Oakwood, ON (January 17, 2017) – Racers from across Canada arrived at the International Snowcross Grand Prix in Rouyn-Noranda, QC on Thursday evening in the pouring rain and woke up to snow and bitter cold the next morning. A 20 degree temperature drop made the track ice hard, and the challenging weather conditions resulted in a smaller track compared to previous years. Despite these issues, the Canadian Snowcross Racing Association (CSRA) did an amazing job putting together a fast and competitive track.
Racers took full advantage of Friday to practice on the new track, and dust out the cob webs. After a long summer full of anticipation, the wait was over on Saturday as Dakota #501 was the first KSR racer to line up for her Transition 2 (age 11-13) moto 1. With a 2nd place finish on her 2017 Ski-Doo RS, Dakota quickly set the tone for an excellent weekend of racing.
Dakota #501
Throughout the course of the weekend, Dakota (age 11), lead numerous laps, earning money for the teams charitable organization, Laps 4 MD. She earned 5 moto wins in both Transition Girls and Transition 2 mixed class, giving her a clean sweep in Transition Girls and a 3rd overall on both days in Transition 2. This would make for Dakota's most successful weekend in her racing career thus far.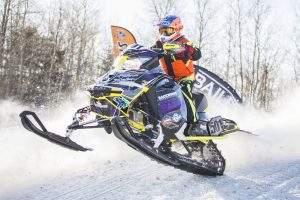 Zoe #502
Zoe (age 8) is one of the first riders to experience the new Novice 200 class on her Arctic Cat ZR 200. It was quite an experience with her going 2:2 on Saturday, and 1:1 on Sunday, placing her on the top of the box for podium awards on Sunday. This was especially exciting as the Novice 200 class is part of the main show so Zoe was able to represent KSR and Bailey Motorsports in front of mass spectators.
Zoe also had her introduction to racing the "big sleds" this weekend on her Ski-Doo RS. She raced Transition Girls, achieving 6th overall on Saturday and 7th on Sunday. She also raced the Transition 1 (age 8-10) class, earning 7th on Saturday and 6th on Sunday. Although the intention was to gain some comfort and seat time on the big sled, Zoe was bitten by the competitive bug it seems, lifting her skis at the finish line when another racer was close by. The team has no doubt as her comfort increases that she will push her sled and her limits further and further.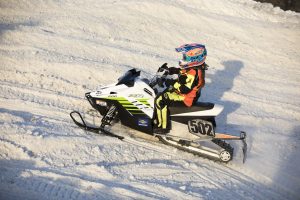 Brooklyn #500
Brooklyn (age 13) continued to show her determination and openness for change and challenge by boldly taking on the Junior classes this year. Looking fierce on her 2018 Bailey Motorsports Ski-Doo RS, outfitted in HMK gear, she rose to the challenge head on. Being the sole female in the competitive Junior 1 (age 14-15) put a little extra pressure on her to represent women in motorsports. With no hesitation off the line, Brooklyn easily made her way into the thick of each race and ended the weekend far exceeding her expectations with an 8th overall on Saturday and 7th on Sunday.
In the Junior Girls (age 14-17) class, Brooklyn achieved top three finishes in all motos and 1st overall on Saturday. On Sunday, Brooklyn charged hard in her moto 2, and was leading when she hit a deep rut on a rough track sending her into the snow. Even with the fall, she was able to get back on her sled and maintain a 3rd place finish.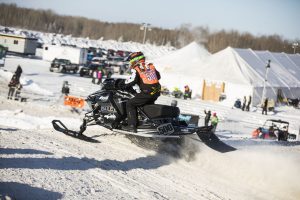 As always, the season opener is a fun weekend giving racers a chance to see fellow race families and catch up. KSR would like to thank Glen Goodale from Bailey Motorsports for his mechanical input and to the whole Bailey Motorsports team for their continued support. KSR would like to congratulate Bailey Motorsports on a successful opening weekend, reaching the podium with #117 Isaac St. Onge who dominated the Pro Lite class! Pro rider Taylor McCoy #335 stepped on the podium Saturday and Sunday achieving 3rd place both days, while Pro rider Ryan Hunt #729 placed 4th overall. Yannick Boucher #52 represented the team well on his snow bike achieving a 2nd place finish on Saturday and top spot with a clean sweep on Sunday.
RESULTS: To see full results for both KSR & Bailey Motorsports, visit www.snowcross.com/race-results
NEXT RACE: ROYAL DISTRIBUTING CUP, February 3-4, Barrie, ON
FOLLOW US: @KSRsnowcross (Twitter & Instagram)
MEDIA INQUIRIES: Contact Jessica Kline, info@backwoodspromo.com