Hard Work, Perseverance and Positive Attitudes Pay Off for Karkoulas Sisters
Oakwood, ON (April 5, 2017) – Racers and fans from across Canada united at Horseshoe Valley Resort in Barrie, Ont., for the final race weekend of the Canadian Snowcross Racing Association (CSRA) championship. Karkoulas Sisters, Brooklyn, Dakota and Zoe, excitedly geared up in their Choko Design race gear eager to secure a National Champion title.
ZOE #502
Zoe hopped on her Polaris 120 stock and Briggs machines for what may be her last time on the 120 machines.  Executing some of her best starts this season had her out amongst the leaders numerous times in Stock two. However, one particular corner gave her trouble and saw her trackside up in the snow a few times throughout the weekend. None-the-less she was still able to get back on and finish her races. In the end, Zoe accomplished a fifth place final standing in the National Championship for stock 2 and earned a year of valuable experience on her Briggs snowmobile, finishing tenth overall in that class. 
For the 2017/18 season, Zoe is looking forward to being one of the first kids to race the CSRA circuit on a brand new 200cc snowmobile!
DAKOTA #501
Dakota had a whirl wind of a weekend combining two of her most loved sports – gymnastics and snowcross.  On Friday she bid good luck to her sisters and fellow competitors, and headed south for a required gymnastics competition.  This was incredibly difficult for Dakota, as she was potentially walking away from a third place snowcross championship in the points race.  Her parents still registered her on Friday in the Transition Girls class with fingers crossed that she could make the race and keep up her points. Thankfully, races were a bit behind schedule and with literally two minutes to spare, Dakota geared up and conquered a track she had never seen or practiced on.
In the end, all the effort paid off and Dakota completed the season with an impressive Third place National Championship.  She ended her season in Novice A with sixth overall and Transition mixed class in ninth place.  Next season, Dakota has goals of taking over her sister, Brooklyn's, title as Transition Girls champion.
BROOKLYN #500
Brooklyn conquered what was likely her most stressful weekend of racing to date.  She entered Friday with a tie in the points race for the Transition Girls championship.  Unfortunately, she had a fall in her first moto but was able to take the checkered in the second moto giving her a third overall that day and trailing by 5 points heading in to Saturdays competition. 
On Saturday, Brooklyn rode fast and clean, capturing the checkered flag in both motos. As Sunday rolled in, so did Brooklyn's nerves. As she sat atop her Ski-Doo RS 600, mentally preparing for the race, many fellow racers and supporters approached Brooklyn with well wishes and words of encouragement. 
Brooklyn was able to take first place in the first moto setting her up for an all or nothing second moto.  With nothing to lose but everything to gain, Brooklyn had a great start. A clean inside pass in the first corner was all she needed to get ahead and win the race, securing title of National Champion in the Transition Girls 8-13 class.
BAILEY MOTORSPORTS
Karkoulas Sisters Racing excitedly started this season by announcing a partnership with Bailey Motorsports. At that time, the goal was to mentor and support this young team of racers. Never did either team imagine the impact that this partnership would have on them. The realization came full circle on Sunday, which was the last day of racing for Stale Eggen of Bailey Motorsports, who had decided to retire from snowcross racing. Over the season, Stale had become Zoe's idol and mentor. After the last checkered flag had flown this past weekend, Zoe was called to the Bailey Motosports trailer by none other than Stale himself, where he gifted her with a signed number plate right from his sled. Zoe spent the entire ride home planning where she would display her prized possession. That is what mentorship is all about.
A delay in the schedule this weekend gave KSR the opportunity to cheer on Bailey Motorsports team members. Isaac St. Onge threw one of the biggest fist pumps ever after capturing the final checkered flag in the Sport 600 class earning him two championship titles.
As previously mentioned, Stale Eggen rode his final CSRA race Sunday afternoon in the main event-  which  would have surely been bitter sweet for the pro open rider.  KSR wishes him all the best back home in Norway. Stale's fellow Pro open rider Mitch King rode hard and secured some of his best finishes on an incredibly physically demanding track.  The Pro lite division was well represented with Ryan Hunt No. 729   earning an overall fourth place in the National Championship.  It was also great to see the Williams family lining up for some superb racing in the Briggs class and Novice category.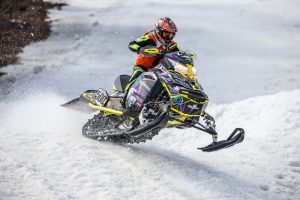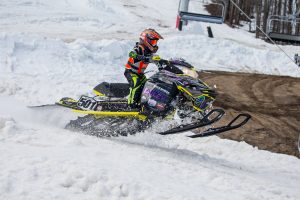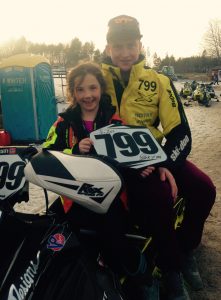 SEASON FINALE
The end of a race season always brings mixed emotions. Contentment and joy for the sport supersedes sadness; however the team will definitely miss the track community during the off-season. KSR relies heavily on the support and friendship of fellow track families. Every tidbit of advice given to KSR racers, every pat on the back, thumbs up or even a lucky coin (thanks Tom Wilson – mechanic for Isaac St Onge!) makes a huge difference. These small gestures are in fact quite large and help shape the girls racing mind set and attitudes. It is these phenomenal track friends that have helped build KSR racers back up when they were down and celebrated with them when they were up.  They have watched over them as they grow and thrive on the track; they learn sportsmanship, a sense of community and togetherness that they will forever remember as they grow as racers, and young women. This is what racing is about; it's more than the checkered flag; it's about the mentorship, comradery, and lessons learned. To each and every one of our supporters, we thank you, and look forward to seeing you all again next season!
Karkoulas Sisters Racing would like to thank their sponsors and supporters: Bailey Motorsports, Lucas Oil, Off Road Vixens, Backwoods Promotions, Backcountry Motorsports Media, Dayco Products, Stud Boy Traction, Choko Design, Gamma Powersports, Zoan Helmets, Dragon Goggles and LAPS 4MD.
RESULTS: To see full results for both KSR & Bailey Motorsports, visit www.snowcross.com/race-results
FOLLOW US: @KSRsnowcross (Facebook, Twitter & Instagram)
MEDIA INQUIRIES: Contact Jessica Kline, info@backwoodspromo.com
PHOTOGRAPHY CREDIT: Shelby Mahon / Backcountry Motorsports Media