Well racing season is winding down and tension is high as the race for National points is coming to a close.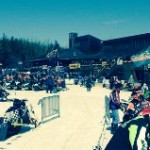 With only two more races to go, the pressure was on at the Rockstar Energy National Snowcross Championship in Kitchener this past weekend.
Zoe brought out some of her best racing on Saturday with a 1St overall in Stock 1.  She showed just how far she has come this season, keeping tight in a nearly 180' corner which saw many kids colliding or bailing.  Sunday was met with lots of determination to keep a winning streak but unfortunately Zoe was unable to hold on in the icy track conditions and put her sled sideways.  Not to be discouraged, she quickly jumped up, tipped her own sled back over, hopped on and continued racing making up many lost spots.  Mom and Dad couldn't have been more proud of her than that moment.  In the end she secured a 6th place finish in Stock 1 on Sunday.
Dakota showed up at Chicopee with her game face as well.  Every heat and final saw her in the top four and on Sunday with the sun shining and warmer temperatures she shed her jacket and got down to business earning a 2nd place finish in the Stock 2 final.  When handed her trophy at the awards ceremony she fist pumped while chanting "girl power".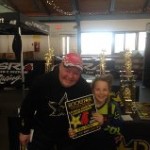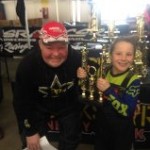 Brooklyn had one of her more challenging weekends in Chicopee.  #500 had consistent 4th place finishes in Novice girls with smooth rides.  Novice 250 class was far more rough for her this weekend with conflict between rider and sled.  In heat 1 in an attempt to make a pass on a jump she unfortunately flew over her handle bars on the landing.  In no time she was back on her sled, tether cord re-attached and off again earning a 3rd place finish.  Perhaps still a little shaken from her bail off, the second heat again saw her in the snow only this time she was unable to get it rolling fast enough finishing 6th.  By the 2nd heat on Sunday with nothing to lose Brooklyn approached the race with a whole new mindset that paid off with a 2nd place finish earning her 3rd overall.